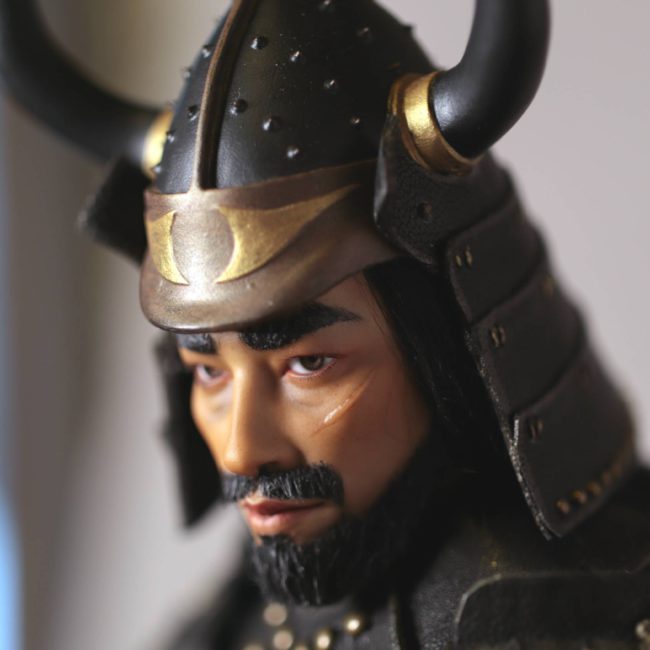 Ronin Seibei is a masterless samurai. A free warrior who deserves the opportunity to choose his Destiny. He is experienced and invulnerable in combat, but he chose the Way of a defender. His look is inspired by Hiroyuki Sanada's character in The Last Samurai movie. Seibei is free to choose who to fight for, and his choice is always noble.
Iconic samurai leather armor and helmet are made from leather, metal, ropes, photopolymer, kimono is made from stretchable silk, weapons are forged from stainless steel. All parts can be removed, dressed doll can move well in armor. I've used pastels, watercolours and varnish for faceup. Eyebrows and beard made with alpaca. The wig is made from alpaca hair.
Bespoke armor made by Olga Ledovskaya according to my specs.
Bestpoke weapons are forged by Slava Demidov according to my specs.
Wig, face up and manicure by author.
This fullset is one of a kind and never be repeated again. The wooden stand is included.
Fullset will be presented at the Japanese exhibition in Moscow.
Additional information
| | |
| --- | --- |
| Height | 17.7 inch |
| Body | Urfin (polyurethane) |
| Character | Seibei |
| Skinton | Calor |
| Hands | Articulated hands |
| Eyes | Eye color Brown 8/2.8, polyurethane |